Caring Optometrist Serving Verona, Montclair & Cedar Grove, NJ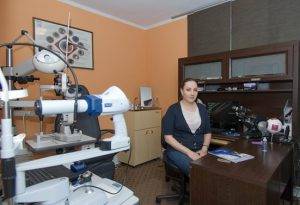 Our eye doctor and eye care staff are here to care for all of your vision needs. We handle everything from adult and children's eye exams and hard-to-fit contact lenses, to eye emergencies, dry eye, treatment of eye diseases including Glaucoma and co-management of eye surgery such as LASIK. Dr. Shrayman loves to fit all types of soft contacts. She wants to help you get into the best pair of contacts for your eyes. We have bilingual staff for both Spanish and Russian speaking patients.
Great Vision, Advice, Technology and Fit
By staying current with the latest developments in eye care, prescription lenses and advances in contact lens technology our vision center can provide you with the best vision, advice and fit today—and in the years to come. We love to make our patients look good. Dr. Shrayman and her staff spend a lot of time choosing our frame collections, with the current styles as well as classic pieces always represented on our frame boards. We take pride in building lasting relationships with our patients, which is why we take the time to get to know you, your vision requirements and your lifestyle needs. Contact our eye care clinic today to find out how we can help.
Eyes are important indicators of overall health, and comprehensive eye care goes beyond a prescription for glasses or contact lenses. Dr. Elina Shrayman, takes the time to get to know you, your eye care history, and your vision needs. She provides the expert care, advice, options, and follow up you need whether you are a new patient or an existing one.
A good contact lens fit starts with a thorough eye exam to ensure the most up-to-date prescription and rule out any pre-existing conditions that could interfere with contact lens wear. Each patient is different, with some patients wearing contact lenses only on weekends, special occasions or just for sports. Contact lenses are a great alternative to wearing eyeglasses.

Challenges such as astigmatism, presbyopia, keratoconus and dry eyes needn't be a barrier to contact lens wear, but they do require more time and patience. Learn More...
Our Designer Eyewear
Our sunglasses and glasses ranges are extensive and full of world famous designer brand names including, Modo, Coach, Gant, Burberry and more. Browse our Designer Frames page for more brands we carry.
Look Great. Feel Great.
We carry a wide selection of beautiful frames as well as contact lenses for every type of vision. Our Verona eye doctor and dedicated eye care team will help you find the best choice for both your eyes and your sense of style.
Jul 26, 2017
On August 21st, for the first time since 1979, a solar eclipse will be visible across North America. What's even more historic is that it will also be the first...
Read More
Jul 12, 2017
Light sensitivity, also known as photophobia, is a condition in which bright light - either natural sunlight or artificial light - can cause significant discomfort, pain and intolerance. People that...
Read More
155 Pompton Ave, Ste 103
Verona, NJ 07044
Monday:

10:00 am - 7:00 pm

Tuesday:

10:00 am - 7:00 pm

Wednesday:

10:00 am - 7:00 pm

Thursday:

10:00 am - 7:00 pm

Friday:

10:00 am - 7:00 pm

Saturday:

10:00 am - 3:00 pm

Sunday:

Closed
Click on an icon to review us online.
We are always interested in improving our patients' experience with Verona Eye Care Center. We welcome your feedback and appreciate your time in helping us find new ways to make our patient services exceed your expectations!